Friends in the NGO community here in Mozambique have been applauding the recent statement by Margaret J. Pollack, the Acting Deputy Assistant Secretary of the State, in the US delegation statement to the United Nations Commission on Population and Development.
Acknowledging that only 5 years remain in both the ICPD and Millennium Development Goal timeframes, she has highlighted the urgency of providing comprehensive, accurate information and education on sexuality and sexual and reproductive health to women, men, girls and boys. Having the US government back this issue is vitally important to successful progress towards targets over coming years.
DFID has been heavily engaged in promoting sexual health for a number of years. At the DFID health adviser conference in Brighton, which I have mentioned in a previous blog, a group of researchers funded by DFID gave presentations. I was particularly struck by the importance of the work being done by the Microbicides Development Programme (MDP), run by the Medical Research Council - as one arm of the research is taking place in Mozambique.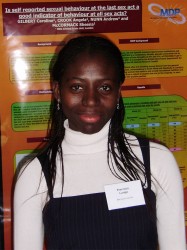 I've a picture here of Precious Lunga in front of her poster presentation on the MDP programme. I had recently read and article on the practice of 'dry sex' in Mozambique. I was intrigued to know whether the development of microbicide gel, which is currently being researched as a potential way of reducing the risk of HIV transmission, but which also increases lubrication, was accepted in dry sex cultures.  Trials are still underway to determine whether condoms plus microbicide gel reduce the risk of HIV transmission over and above condom use alone. An information note, by Joyce Wood, handed out at the meeting and called 'Building Capacity, Improving Lives: Collateral Benefits of the Microbicide Development Programme', explains this further. It may well be that gel, whether or not it has effective microbicide action, could reduce the harmful practice of dry sex. What we eagerly await now is the conclusion of the research to discover whether gel also brings about reduced disease transmission.