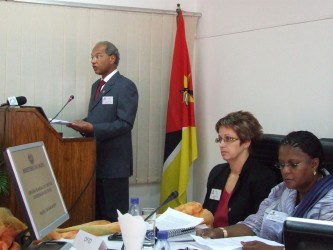 We were all crammed in to the 9th floor meeting room of the Ministry of Health on Friday 3rd April, for one of the twice yearly big meetings between the Minister of Health ( Paulo Ivo Garrido ), and development partners. It was a lively meeting, with an eloquent speech from the Minister and a useful round of questions from partners. Development partners were trying to get a better understanding of the main barriers to more rapidly improving health in Mozambique.
Minister Garrido can be seen in the picture delivering his address, in which he noted the achievements of 2008. The list of achievements included:
The elimination of leprosy, which is achieved when less than one case of leprosy per 10,000 population is reached. Mozambique is proud to have achieved elimination before countries such as Brazil and India.
The increase in the number of patients benefiting from antiretroviral therapy, with nearly 130,000 on anti-retroviral drugs by the end of 2008.
55% of women are now delivering their babies in a health institution. This increases the chance of any problems being detected and of help being offered, reducing the risk of both maternal and neonatal illness and death. However, the large number of women still out of contact with health services at the time of delivery remains a considerable challenge to further reducing maternal mortality.
A decrease in the number of malaria cases recorded due to a combination of more accurate diagnoses of malaria using rapid testing, and increased access to treatment, to insecticide treated bed nets and to indoor spraying to reduce mosquito numbers. It is possible to confirm cases of malaria with a test, rather than relying on clinical signs, and this has reduced over diagnosis of all fevers as malaria. This should improve accuracy of treatment and in the longer term decrease health service costs through greater efficiency. The decrease in number of cases of malaria has also been due to the success of indoor spraying with insecticides and the distribution of over 2.2 million Long Lasting Insecticide treated bed nets in 2008. In the north of Mozambique, the level of malaria parasites in children under the age of 5 has been significantly reduced in households which are using insecticide treated nets.
The approval of a national strategy for Human Resources for Health is a significant achievement, which has helped to highlight the outstanding challenge of increasing numbers of doctors and nurses, and is beginning to increase the numbers being trained.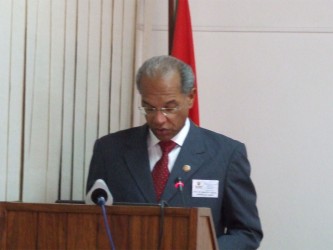 These are just a few of the achievements that the Minister highlighted. For a country like Mozambique, which is spending little more than $7 per capita on health, with a further $7 per head coming from development partners - then it is remarkable to note what can be achieved. Even adding in the $7 per capita of additional funding linked to HIV/AIDS and channelled through projects, this still leaves funding in Mozambique below the $35 per capita the Commission on Macroeconomics and health estimated as needed to provide a basic package of health care. So, even though funds are very limited, Mozambique is doing fairly well, although much more needs to be done if the Millennium Development Goals are to be reached.
But every silver lining has a cloud, and Minister Garrido was also very ready and willing to point out the outstanding challenges - these I will highlight in a challenges blog!