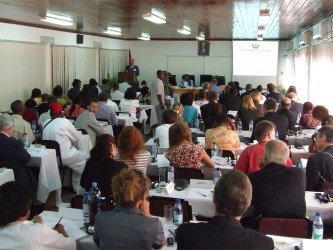 The lively and very tighly packed (both in terms of agenda and physical space!) joint meeting between the Ministry of Health and development partners held in Maputo on 3rd April closed with a very clear statement of solidarity with the Ministry of Health from development partners.
I have attached a picture so you can see us all squeezed in to the meeting room on the 9th floor of the Ministry of Health in central Maputo.
It is very easy for donor's comments and questioning about the efficiency and effectiveness of services in Mozambique to sound a bit like criticism, but this is not the intention. The huge efforts to improve health being made by health workers in Mozambique are applauded by Mozambique's development partners.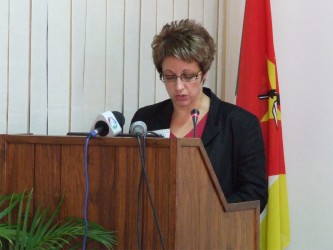 Jane Rintoul, DFID's head of office in Mozambique (my boss), who was speaking on behalf of all development partners to the health sector, assured the Health Minister in her closing remarks to the this twice yearly joint coordination meeting that "we are all on the same side, fighting for the same thing, which is better health for the people of Mozambique".
However, it is important to recognise the main challenges to improving health. Unless the challenges are acknowledged they will not be addressed. Minister Garrido clearly recognised this in his own speech to the meeting, which highlighted a number of challenges to reaching the Millennium Development Goals.
The challenges identified by the health partners include:
The need to strengthen planning and budgeting, particularly at the provincial and district level. Without sound financial management it is difficult to link investment of funds to desired improvements in the health system and health outcome. There is quite a bit of work that is currently being done or planned to strengthen public financial management in the health sector in Mozambique.
The need to strengthen distribution systems, to make sure that health facilities are fully stocked with essential medicines and equipment. Reports of health facilities running out of drugs would be a concern anywhere in the world. Fortunately this does not happen too often, but efforts to strengthen the warehouse and storage system and distribution networks to get drugs from warehouses to health centres are needed.
The need to finalise the development of one national plan for HIV/AIDS, with a single monitoring and evaluation framework and a single financing framework. This principle, the three 'ones', is an important one for HIV/AIDS control. Mozambique is currently in the process of bringing together a national HIV/AIDS prevention strategy, with a new 5 year strategy for the health sector and the new overall government 5 year plan - which should all be captured in a single national plan to tackle HIV/AIDS, known locally as PEN III
Effective coordination between different ministries of government. In the UK, we call this joined up government, but the challenge of getting different departments to work effectively together should not be under estimated. Effective inter-sectoral working is needed for things like cholera control, where the Ministry of Health is responsible for the medical response and for health education for populations, but it is the Ministry of Public Works that needs to improve access to clean water and support improvements in sanitation. Promoting 'joined up government' is a challenge the world over.
These are just a few of the challenges to improving health in Mozambique. However, the meeting last week demonstrates that there is a huge amount of good will for shared efforts to address these problems. I think most observers of the process would acknowledge that the joint meeting was a success and strengthened the partnership that exists.