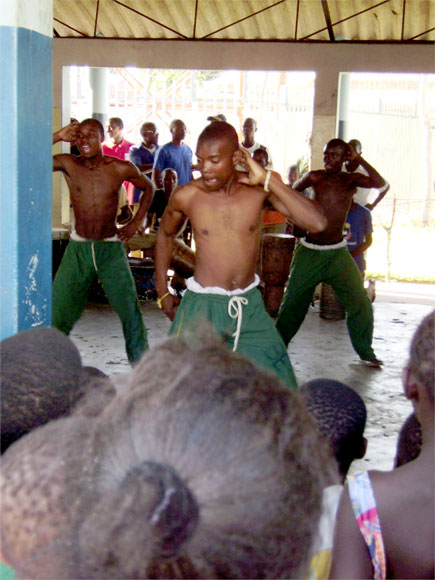 I spent Saturday afternoon with my family visiting a dance group that has been established in Mafalala bairro of Maputo. The bairro is an area of tightly packed shacks and houses on the road towards Maputo airport. The living conditions are better than those portrayed in 'Slumdog Millionaire' but the levels of poverty are similar. To access the bairro we had to drive down a storm drain, fortunately at this time of year it was dry and relatively clean but I would imagine it presents a real health hazard for the adjoining houses in heavy rains.
The level of unemployment amongst young people in many of the bairros near central Maputo is high. Local communities have become increasingly concerned with rising levels of delinquency and with increasing levels of alcohol and drug abuse. The Machaka Association was founded in 2000 to provide a sense of community for young people through music and dance and to tackle some of these social problems. There are currently 40 young people aged between 12 and 16 who actively participate in the youth club and performances the group put on.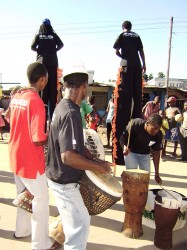 We couldn't find the venue for the performance at first - a young lad, smelling heavily of alcohol at 2pm in the afternoon, and a prime example of the group of people Machaka is trying to reach, had to show us the way. The performance was held at the bairro primary school. We had to wait a few minutes before the dance group arrived, but the group made an impressive entrance, the sound of drums filled the air and stilt walkers lead led the crowd in to the school yard.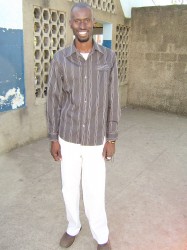 I spoke to Henrique Balate, pictured here, who runs Machaka, and who gave me some of the background to the organisation. In addition to developing a youth centre, the group conducts workshops, holds debates as well as holding performances and dance.

The performers at this event were sporting tee shirts emblazoned with 'art against violence' and distributing pamphlets against domestic violence, which is a significant problem in Mozambique.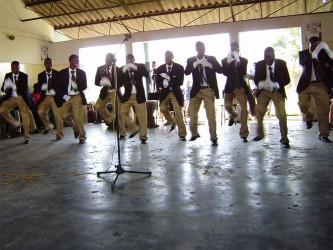 The performance itself consisted of a group of young men, dressed in jackets and white gloves, singing powerfully, with a well choreographed dance routine. It was this image, which reminded me of the dance scenes from Slumdog Millionaire. Not quite the same cast of thousands, but young people from the bairro, singing and dancing and demonstrating the sort of talent that perhaps, given different circumstances might have translated in to fame and fortune. The young people in the Machaka Association have a huge amount of energy and talent, and demonstrate what can be achieved if young people are given the right opportunities.