Amongst the snowstorm of information clogging the humanitarian wires (Alertnet, Reliefweb, etc) one little nugget, buried at the back of a WHO report caught my eye.
'The airport is intermittently open and closed. In addition, supplies arriving into the country are piling on the tarmac…'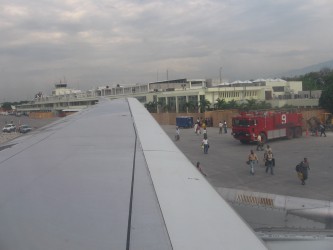 It is the beginning of the perennial, mega-disaster problem. The airport is already clogged with supplies that are unsolicited and unprioritised and adding to it will make it even more difficult for the truly life-saving stuff – the medical kit, the water and sanitation material, the food – to get through.
In Aceh, a few weeks after the Tsunami, the runway was lined with 5m high piles of clothing sent as aid packages by people trying to help. Most of it had begun to rot; there had been an attempt to burn it, and some of it was still smouldering.
I can understand this want to give - whatever you can - at this time of need. It's this want to help that drives us a humanitarian workers. It's what keeps my colleagues in the Operations Room working through the night. And it's a visible sign of the public support that we desperately need to do our work.
But, alas, it's just not practical to give "stuff" - or to take relief efforts into your own hands. In the case of Aceh, clothing was never a humanitarian priority, and in any case, cultural norms meant that most people would not wear second hand clothing. The other irony was that most of the clothes had been manufactured in South East Asia in the first place, exported to Europe and had now found its way back – by eye-wateringly expensive flight – to Indonesia.
I remember back in the Operations Room, the lines were often busy with people wanting to help, to do anything, to do something. Several offers from the public stick in my mind. There was the British national who rang up from Thailand; she did not have much to offer, she said, but at home she worked in a travel agent, and so offered to assist with the incoming relief flights. And there was a gentleman from Australia who rang to ask us where he could send a super-tanker he planned to fill with fresh drinking water.
The one that is clearest in my mind, however, is the call we received from a lady who spent the day after the tsunami baking cakes for the survivors, and was asking if we could help deliver them.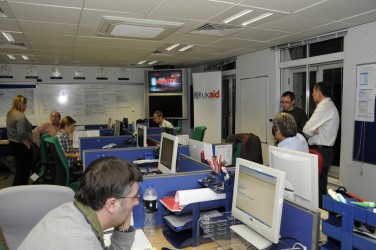 Similar well-meaning offers are appearing once again for Haiti. Today I heard of a lady that had rung in with the offer of using her personal yacht.
In an era when disasters are piped almost instantaneously into our sitting-rooms, and play out over YouTube, unsolicited donations are a natural and understandable expression of worldwide anguish at the plight of the Haitians. It is the same motivation that jolted Imran to reply to my last blog; a heartfelt, humanitarian response. How can I help?
There are a number of ways. I see that the American Red Cross has been savvy: Twittering you to donate $10 by mobile phone. (And I see the DEC Appeal in the UK has followed suit). I like that; and so do the American public, apparently: $35m has been raised since Thursday night. If you are a business, or have an in-kind donation, I see the UN has set up a portal which seems to act more or less like a dating agency, matching your donation against an identified need. Or if you are a person who just feels moved to scratch the humanitarian itch, find out how you can help on our website or donate now to the Disaster Emergency Committee appeal.
The take-home message is this: monetise the home-made cakes, sell the super-tanker, and rent out the yacht. Give the money instead, to an NGO near you.

Donate to the emergency appeal for Haiti | How you can help | Latest updates from DFID