One early July day, I made my first flight to Africa, was delivered with my blue rucksack to a guest house on Ngong Road in Nairobi, and enjoyed my first encounter with a noisy Mynah bird, singing loudly outside my window. A long haul drive across the country in matatu minibuses took me to Mt Elgon where I worked for two months on an agricultural development programme run by a local church agency. It was a high, forested area being opened for settlement by landless families; there was no school or health centre and we drank the water that drained from our roof.
That was in 1980; I was an enthusiastic youngster dipping my toe into 'development' for the first time.
Thirty years on, I am still enthusiastic, passionate even, about the needs of poor people, even if I do mostly drive a computer behind a desk in London.  The bad news, of course, is that there are still many, many people who live in poverty – including folks living on Mt Elgon. The good news is that development issues have moved from being the concern of NGOs and the enthusiastic, to the centre of the political stage.
Look at the impact of the decision by the Coalition Government to ring fence the Development Budget – it has provoked loads of comment from all shades of opinion, both for and against. This week is the United Nations Millennium Development Goals summit in New York. It's a stock take on how the world is doing on its commitments to reduce poverty – and there are only 5 years to go before the target date of 2015. Nick Clegg and Andrew Mitchell are both representing the UK, with the ambitious aim of jacking up the level of international action.
More specifically, how's Britain trying to achieve this? Firstly, it's about getting agreement to the actions needed to reach the 2015 Goals. The UN has listed the steps that must be taken:  it's long, but it's essential, and it needs engagement from Governments as well as civil society and the private sector. This is really challenging, with a world economic slump sitting on top of everything; but the UK has said it is committed to pushing forward with others.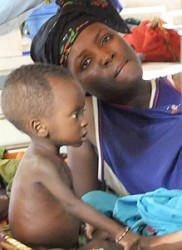 A couple of months ago I was in Niger, assessing how DFID could increase the response to the massive food crisis. The clinics for malnourished mothers and children were full, and, sadly, babies were dying every day. Food was available in the markets, but many families were too poor to buy it. My photos on the Independent website show the struggle that women are going through to look after their children.
Niger's population has grown from 1 million people at Independence in 1960 to 15 million today, and it still has one of the highest child and mother mortality rates in the world, and terrible child malnutrition. That's why Britain aims to put the spotlight at the MDG Summit on tackling malnutrition, supporting family planning and reducing mother and child mortality.
Another big aim for the UK at the summit will be to renew world commitment to addressing violence, conflict and fragility which cripple the chances of development. As leader of a DFID team working on African conflict and humanitarian issues, I visited the Kivus region in the Democratic Republic of Congo in 2007. Driving north from Goma town we were caught up in fighting between rebels and the Congolese army – terrified men and women fled in all directions and we hunkered down in a UN barbed wire encampment.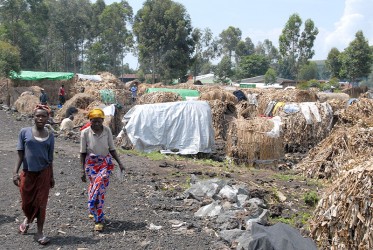 Fortunately there were few casualties then, but it is a place that has been ripped apart by violence over the last twenty years.  As Maj. Gen. Patrick Cammaert, the former UN Peacekeeping Operation commander in DR Congo said in 2008, "It is now more dangerous to be a woman than to be a soldier in modern conflict". This August the international protection force failed to protect 500 victims of mass rape that took place in the Kivus. Yet, protecting the vulnerable and pushing back on the causes of conflict is absolutely critical. Not one conflict affected country has yet reached any of the MDGs.
Yes, people at the New York Summit will hear lots of words, but the UK will be seeking actions. Much progress has been made so far. Thirty years on from my first matatu ride in Kenya, the people of Mt Elgon do have schools, immunisation and more clean water, but I still believe that they, as well as the children of Niger and the women of the Kivus, deserve a much better deal.