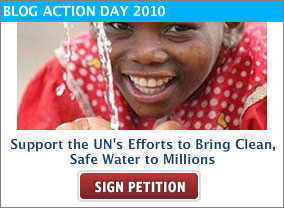 Indians are used to coping with the effects of a variable climate. So many of these effects are related to the availability and quality of water – for agriculture, domestic consumption, industry, power generation and other uses – that water is viewed by many experts as the most important source of vulnerability to climate change.
Nothing demonstrates better how, to a very great extent, climate change will exacerbate existing development challenges. Take the fact that, with about 17% of the world's population, India has just 4% of global freshwater resources. Plus, over 70% of annual rainfall occurs between June and September during the southwest monsoon. And almost a quarter of India's total land area is prone to drought, and 12% to flooding. Either weak or excessive monsoons can result in economic loss and increased suffering on a large scale – as seen during the drought of 2009, and the monsoon floods of 2007 which displaced millions of people across northern India.
Unpredictability and extremes of either shortage, or excess, are as much the problem as is average per capita availability of water. And these are precisely the problems that will intensify in future with climate change, according to scientific predictions. The Indian government has recognised the importance of better water resource management in addressing climate change, drawing up a national water mission as a key element of its national action plan on climate change.
I'm not a water specialist myself. As an economist I count myself as strictly a layman on such matters. Luckily – and undoubtedly one of the boons of working in DFID – I have several colleagues based here in India who are water specialists, and can teach me a thing or two. So I asked them to share some of their wisdom for this blog.
First up was Guy Howard, currently responsible for managing DFID's research work in South Asia, who has spent most of his career working on water issues: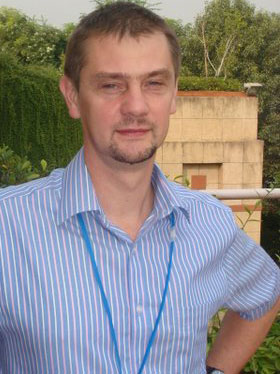 "Do you know how important groundwater is? In the UK 35% of domestic water supplies use groundwater, but in many developing countries it can account for 80% or more of water used. In the UK, we understand our groundwater resources very well, but in South Asia and Africa we have no idea how much is there, how long we can use it for or whether it is contaminated. And we know very little about how climate change will affect groundwater – this was obvious from the last round of Intergovermental Panel Climate Change (IPCC) reports. But we do know it is likely to be used even more as rivers and lakes become less reliable sources of water with changing rainfall. I was recently discussing climate change and water resources in South Asia with colleagues from the World Bank and was yet again struck by the lack of expertise in our partner countries. India, for example, relies very heavily on groundwater from its tubewells to irrigate the land that has driven the green revolution, but probably less than 15% of officials working on water are groundwater specialists. So what do we need to do? Well for a start we need understand better the climate impacts on groundwater. In South Asia, DFID will be working with others to help improve and coordinate research on this issue. But we also need to do more to help build up government, community and private sector capacity to manage the 'hidden seas' that lie beneath their feet, and we are looking at ways at how we can do this in future."
Next, Clare Shakya, regional climate change and water adviser for South Asia: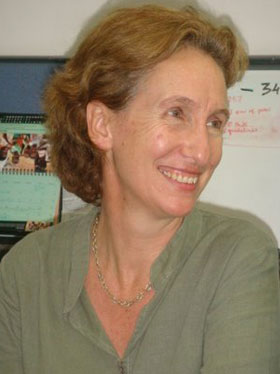 "I have just got back from Nepal where we had the donors meeting on the South Asia Water Initiative – a programme we, the Australians and Norwegians support through the World Bank to improve regional cooperation on water management, particularly in light of climate change. Our focus is on the rivers running south from the Himalaya – the Indus, Ganges and Brahmaputra rivers, that support the lives and livelihoods of 700 million people (take a look here to find out what is happening on the Himalayan rivers). But over the last year we have mostly looked at the Ganges – home to 500 million odd people – and the initial results of the World Bank's analysis are pretty startling.  Also because we don't understand the monsoon very well, climate change models are not well tuned into the region – and they all tell us different things. For this reason the IPCC calls this area a white spot. But what has surprised us in this first round of analysis is the things we thought were obvious – win-win things to do no matter how the climate changed, look like they may not work. The best example of this is that Bangladesh, India and Nepal were all expecting they could store water in Nepal to reduce flooding in the summer and release it in the dry season. But it looks like the mountains are too steep – and there just isn't the storage available to reduce flooding in the main river."
Ashufta Alam is our senior infrastructure and urban adviser in India, with a special passion for the importance of toilets in development: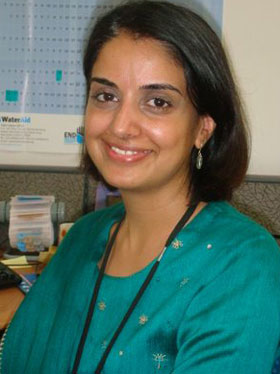 "Years ago, as a trainee engineer, I constructed latrines and installed handpumps. Working for DFID is less physically rewarding but the prize is much bigger: helping partners to deliver water and sanitation to millions of people. Here in India, where diarrhoea kills one thousand babies every day and harms the life chances of many more through poor nutrition, this really counts. My career has progressed but one basic truth has pretty much remained: that it is rarely the technology that matters - what counts is 'how' services get delivered and sustained, how community awareness and demand come about. A recent piece in the British Medical Journal does a fuller job in describing these challenges. A scientific approach will be increasingly vital for us as we learn almost from scratch how climate change will affect basic water and sanitation services, like in Bihar, which recorded floods in some districts and drought in others at the same time last year. Where do you defecate when your latrine is flooded? What will happen when traces of your excrement pass into your, or your neighbour's, drinking water source? My basic truth will need to be upgraded to accommodate a possible need for newer technologies. What will remain the same will be the central role of communities in leading the charge."
Last but not least, Virinder Sharma is our rural livelihoods and environment adviser. Among other responsibilities, including advising on DFID India's efforts to reduce its own carbon footprint, Virinder leads on DFID's rural programmes in Madhya Pradesh (featured in my earlier blog post) and Orissa: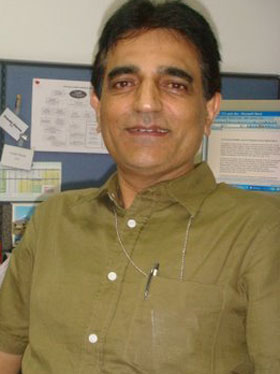 "DFID's innovative rural livelihoods programmes have demonstrated the role of better soil and water conservation, alongside other investments, in reducing poverty and strengthening the resilience of the rural poor to climatic stresses. We have documented this for our western Orissa programme. At the same time the Indian government has hugely increased the resources it is allocating through programmes such as the Integrated Watershed Management Programme (IWMP), and the National Rural Employment Guarantee Scheme (NREGS). NREGS is the largest rural employment programme in the world and is now commonly referred to as a 'green jobs' and climate resilient programme as it is focused on natural resource conservation, including water management. It's encouraging to see that the IWMP guidelines have incorporated lessons from donor and civil society supported innovations, evolving from purely natural resource-centric programmes to community participation and livelihood generation programmes over the last 25 years. Despite the increase in public resources, however, a lot of challenges remain as far as implementation and impact of these programmes is concerned, such as coordination at the village level and targeting of poverty and climate vulnerability."
My thanks to Guy, Clare, Ashufta and Virinder for sharing their perspectives. Groundwater, glacial melt, waterborne disease and micro-watersheds – it's clear that the impacts of climate change on water will be felt in many different ways, and that taking these impacts into account adds a new complication to existing challenges which will test donors and policymakers alike.
Read more water stories this Blog Action Day from our friends at the Foreign Office