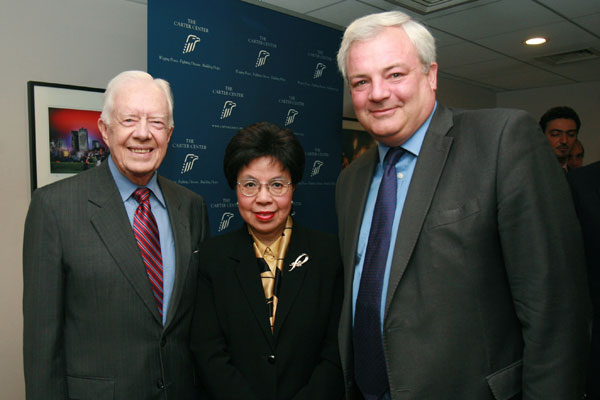 It was a great pleasure to be in London recently to launch the last phase of a campaign that is wiping Guinea worm disease from the face of the earth. This devastating parasitic disease affects some of the poorest and most neglected people on the planet and is one that I and my colleagues at The Carter Center have spent 25 years working to eradicate.
I met with Parliamentary Under-Secretary of State Stephen O'Brien at the Department for International Development, and he agreed that the British Government would support our campaign. He laid down a challenge to others to do the same, to help us meet the $70 million (£45 million) funding that we estimate is required to finish the job on this disease. With the support of our partners, including the British Government, the Gates Foundation, and the World Health Organisation, we hope that within the next five years we can make Guinea worm only the second human disease after smallpox to be eradicated.
Guinea worm is an ancient disease that has no vaccine or cure. It is a waterborne parasitic disease, meaning that once we can prevent the parasite from breeding, we can eradicate the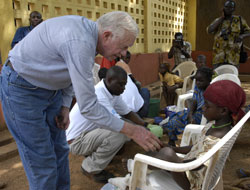 disease. The only method of treatment seems archaic by our modern medical standards. It requires wrapping the worm around a small stick and slowly extracting it from the sufferer's body - a slow and painful process that can take several weeks. Sufferers are crippled with pain, meaning adults cannot work in the fields and children are unable to attend school. It is a disease that prohibits social progress and keeps the poorest trapped in a cycle of poverty.
I met Margaret Chan, director-general of the World Health Organisation during my trip to London, and she called Guinea worm 'an invisible disease', because it affects the poorest of the poor in the most isolated and remote villages. The plight of these people is too often unseen and too easily ignored, which is why The Carter Center made it our priority to do something about it.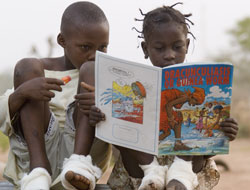 When we began our campaign to eradicate Guinea worm in 1986, there were about 3.5 million cases in 21 countries in Africa and Asia. Since then, we have been to every village in the world where Guinea worm exists - 23,600 villages - to treat people suffering with the disease and help communities to understand where the disease comes from and how they can prevent it.
We teach people that drinking clean water is the way to avoid Guinea worm and we distribute fine cloth filters they can use to remove the larvae from their impure pond water.
This is a breakthrough, not only in tackling Guinea worm, but in helping the villagers to become more self-sufficient and to have greater confidence and hope that their future will be free of a disease that they have never known life without.
Last year, there were fewer than 2,000 cases of Guinea worm - a 99.9% reduction in cases since 1986. While there have been recent outbreaks in four countries, we hope that very soon Guinea worm will remain in only one country - South Sudan. Progress has been slower there because conflict prevented us from accessing villages for a long time. But now we have more than 12,000 volunteers monitoring 6,000 villages, and we are close to achieving our goal.
The elimination of Guinea worm is a great success story - freeing people from pain, providing a means to tackle other diseases and giving hope, confidence and greater self-reliance. It is a success that could not have been achieved without the support of our partners, and I am grateful to the British Government, the people of the United Kingdom, and to all our partners for their support in helping to rid the world of this dreadful disease.
---
Learn more about Sadia
and how Guinea worm disease affected her
Read the news story: UK push to wipe out Guinea worm disease
Find out more about DFID's work on neglected tropical diseases, which affect more than one billion people across the world.
Please note, this is a guest blog. Views expressed here do not necessarily represent the views of DFID or have the support of the British Government.