ITV1's Soccer Aid match will be shown live from 6pm on Sunday May 27th. For more information on UNICEF and tickets to Soccer Aid go to www.itv.com/socceraid.
All donations to Soccer Aid will be matched pound for pound by the British Government.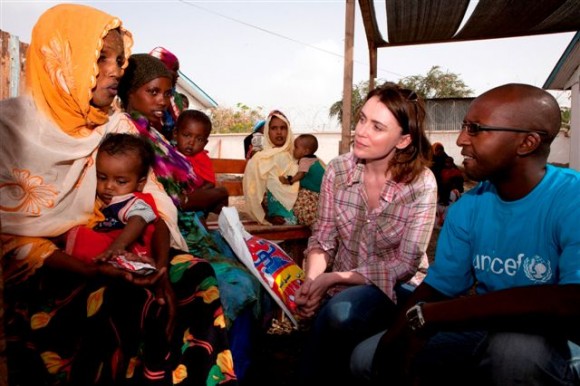 When UNICEF asked me to get involved with Soccer Aid and suggested I make a film in Djibouti, I must admit I thought, 'where on earth is that?'. Now I can't imagine I'll ever forget the children I met in this tiny East African nation, which has been ravaged by the worst drought in 50 years.
The world's media have focused on neighbouring Somalia, just a few kilometres from where we were. But in Djibouti, away from the cameras, one in every five children is malnourished and suffering terribly from the worst food crisis in decades.
I came back from Djibouti a different person. Since the trip I've followed news of Soccer Aid closely. There's plenty to follow and I am extremely proud that the British Government have pledged their support in helping UNICEF save more children's lives by matching money raised in Soccer Aid 2012 pound for pound.
This will inspire more fundraisers to get involved, because for every pound the public donates, DFID will donate the same, so fundraisers can celebrate their double impact. It's as simple as if you give £5 then children benefit from £10 worth of help.
One person celebrating this announcement is the amazing Dan Magness who earlier this month set an extraordinary new record as he completed a challenge to raise money for Soccer Aid – he walked from London to Manchester doing 'keepy-uppys' all the way.
This was a journey of over 202 miles (smashing the previous record of 186 miles), over 10 days (in some terrible weather conditions), and close to 400,000 steps, all in support of UNICEF's crucial work for children.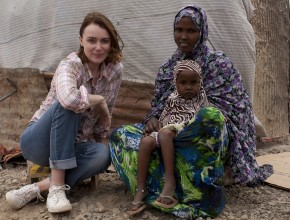 I can vouch for what a difference UNICEF makes. The image that keeps coming back to me from Djibouti is the slum that has sprung up just outside the capital. You walk over a hill and it suddenly appears, as far as you can see in either direction - little cardboard huts and rotting cows, jaws of animal carcases, razors, shoes with nails sticking out. It's the most apocalyptic landscape, and then you realise this is where children are living. It was so much worse than you can ever imagine having seen these places on the telly. It was so extreme your imagination can't go to those types of places and see those details. You can't imagine the full horror until you've been in it and smelt it.
About 20% of the population in Djibouti used to be rural farmers - cattle herders - but their animals died of thirst because all the rivers and lakes have dried up, so these families have been forced to move in search of food and water. With prices of oil, food and rent spiralling out of control, there's little chance of a new life in capital. Instead, they end up in this unofficial settlement, on the outskirts of Djibouti city.
I met a little girl called Selma who was five years old, the same age as my youngest son, but she looks about two because she's so malnourished. She'd been hospitalised twice and she hasn't developed physically or mentally because of lack of food. Selma's mum was telling me how they built their house, using sticks and string for the structure, then filling the gaps with bits of old clothes. I asked where they get the clothes from and she said, quite brightly, that it's the clothes that people throw away. This sentence really hit me - she has made a home out of other people's rubbish. I thought how strong she was. But it shouldn't be like this.
I was feeling a mixture of guilt and horror at the gross unfairness of it all. I might have felt completely hopeless if I hadn't then visited the hospitals and health centres where UNICEF is providing life-saving emergency food and nutritious milk, helping doctors stop these children wasting away.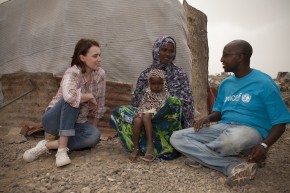 UNICEF is providing crucial supplies to emergency feeding centres, where children like Selma are treated for severe malnutrition. Children are fed emergency milk through their nose, or, if they are able to eat normally, they are given a special peanut paste which is packed with nutrients and helps them quickly put on weight. These are the types of simple solutions that UNICEF urgently requires. That's what Soccer Aid is all about. It's about donating just £5 which could buy a week's supply of life-saving emergency food for a child.
Your money really can save a child's life. It's that simple.
Your donation really makes a huge difference to a child. For example, just £5 could help feed a starving child for a week and £20 could provide a severely malnourished child with special emergency milk for over a month, making sure they get all the life-saving nutrients they need to survive.
Text the word 'DONATE' to 70442 to donate £5 or call 0330 123 1966 or go online to itv.com/socceraid.
Please give what you can. DFID will match all donations to Soccer Aid, so what you give is worth double to UNICEF - you have the power to change children's lives.
---
Please note, this is a guest blog. Views expressed here do not necessarily represent the views of DFID or have the support of the British Government.

UK aid is changing lives. Find out more and get involved on our Facebook page.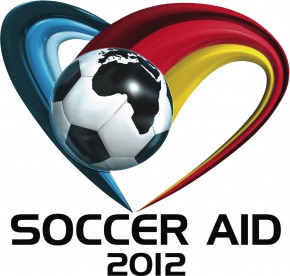 Soccer Aid was started in 2006 by UNICEF UK ambassador Robbie Williams.
Every two years, two teams of celebrities and football legends from England and the Rest of the World play a match to raise funds for UNICEF and change the lives of children around the world.
Follow @socceraid on Twitter for all the latest team news ahead of the game.
Find out more about UK aid match funding for UNICEF.