This is the last of my posts on Malawi, which did prompt me to think a lot about how the response to HIV will be managed and financed over the long term. Two key people I met in their respective offices whilst I was in Malawi were Dr.Charles Mwansambo, the Permanent Secretary of the Ministry of Health (see a picture of him and listen to an interview with him on health research in Malawi), and Thomas Bisika, Executive Director of the National AIDS Control Programme.
I first met Charles 20 years ago when I was a District Health Officer in Malawi and he was a paediatrician at Kamuzu Central Hospital, Lilongwe (see some photos on Flickr of the hospital. I have also known Thomas Bisika for a number of years, having first met him when he was working for the Africa Union (AU) when I was working for the European Commission of the European Union (EU) during the development of a joint EU/AU programme. It was a real pleasure to meet them again. I raised a couple of concerns with both of them that I had about the national response to HIV.
Malawi's success in increasing access to antiretroviral drugs for HIV is highly dependent on donor funding for medicines. The Clinton Health Access Initiative (CHAI) has worked with the Ministry of Health and with donor partners to map funds for health and HIV. I am copying a couple of the slides they produced which illustrate the current funding situation.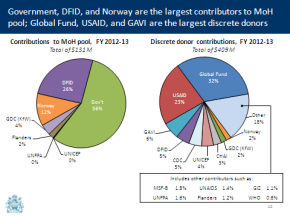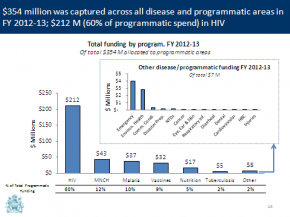 The first slide is a bar chart showing the allocation of funds by disease programme. The second slide illustrates the heavy dependence for funding on donors, looking at contributions to the health sector pooled fund in one pie chart and the donor share of discrete funds or project support in the second pie chart.
The charts illustrate the heavy dependence of Malawi on donor funding to support its health and HIV programmes, as well as the high proportion of funding going to HIV/AIDS. High levels of funding to the national AIDS response can be understood given the scale of the epidemic in Malawi, but two points need to be kept in mind:
without a reduction in incidence, the cost of HIV is going to continue to be high, and to increase further over time.
Malawi faces many other health challenges which impact on both people with and people without HIV.
High levels of maternal and child mortality, pneumonia, diarrheal disease and malnutrition affect HIV positive and HIV negative people alike. Malawi has to actively consider its resource allocation in order to maximise the benefits and the health gained from the limited resources available.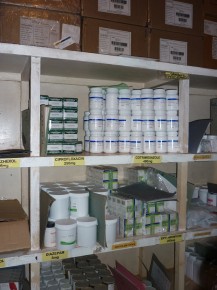 I got an illustration of some of the potential pitfalls of the current situation when talking to health workers in Mtengowatenga and Dowa, who indicated that there had been a shortage of a key antibiotic for treating childhood pneumonia (Co-trimoxolzole). This drug is also an important treatment in HIV to reduce infections related to reduced immunity in people with HIV. However, there were situations in which health facilities had the antibiotic available for people with HIV, but who thought they could not use it for other patients without the infection. Had common sense not prevailed in these circumstances, this could have led to a shortage in the midst of plenty. See the picture of Co-trimoxazole supplies in Dowa Hospital pharmacy.
One of the reports I read whilst in Malawi was a report commissioned by UNAIDS, and carried out by Oxford Policy Management (OPM). The report looks at the sustainability of funding of HIV in Malawi – it is still in draft but  you can view a slide presentation on the six country study on sustainability of funding that OPM has carried out. One of the conclusions of the report on Malawi is that unless Malawi can reduce the incidence of new infections, the scale up in access to antiretroviral drugs will not be sustainable in the medium to long term.
This is an important issue for the Government of Malawi, but also for the key donors who have supported the massive scale up in access to drugs, particularly the Global Fund. Malawi will need to maintain high levels of funding from the Global Fund if it is to maintain its supply of antiretroviral drugs.