Until I arrived in the desert-like terrain of Chad, West Africa, and had driven the eight hours to the region of Guera, an area that sits on the periphery of the Sahel belt, I was struggling to visualise how the incredible amount of money raised through Soccer Aid was already changing children's lives here.
The first time I really saw the impact of the money raised - a staggering £4.9 million thanks to the incredible generosity of the UK public and UK Aid Match - was at a hospital in the capital of the region, Mongo. I was shown around the children's wards: two large tents and two concrete buildings, the latter being the intensive care units. These units hold the children who arrive here with the most extreme conditions, suffering from severe malnutrition with serious complications. Many with death in their eyes.
Thanks to money raised by Soccer Aid though, these children are being treated with life saving nutrition supplies and medicines, which means that within weeks it's possible to bring even the most severely affected child back to health again, and give them the hope of a brighter future. And this isn't the only place that this critical nutrition intervention is happening thanks to UK aid; since 2010, the UK has more than doubled resources for tackling undernutrition, with a commitment to reach 20 million pregnant women and children under five with nutrition interventions by 2015.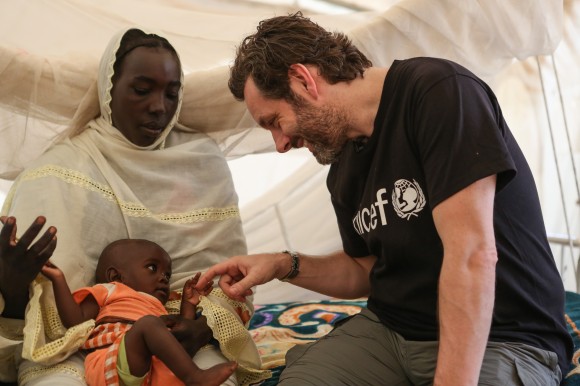 However, the difference that Soccer Aid money has made in Chad reaches much further than the country's hospitals and out to a multitude of health centres that operate across the region, which work to prevent children from even getting to this severity of illness in the first place. The health workers at these centres are trained by UNICEF to identify and treat malnutrition, which, as a result of an ongoing food crisis caused by periods of extreme flooding and prolonged periods of drought, affects well over half the children living in Guera, Chad.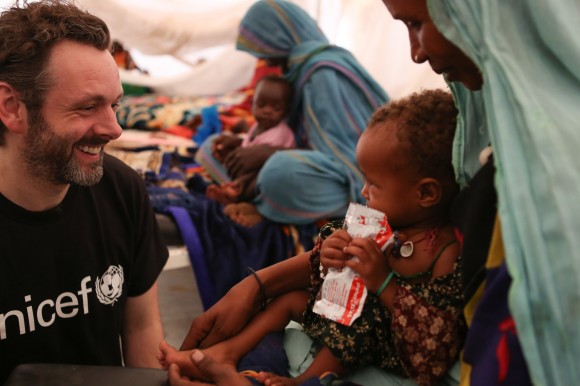 Another change that is now in place thanks to the support of the UK public and vital UK Aid Match, is the presence of the humble mosquito net. During my second day in Mongo, I visited a family whose youngest child had been extremely ill with malaria. The child was treated at the health centre and the family was given a mosquito net, paid for with money donated by UK aid, and now the entire family is safe from the life-threatening disease. We saw how they construct the net inside their home, which was a round mud hut with a roof made from sticks, carefully designed to keep the heat out. A mosquito net is such a simple thing, and yet it saves and changes lives.
In the last year the UK government has delivered more than 12 million bed nets to protect against malaria transmission, preventing over 66,000 child deaths. I'm very pleased to say that thanks to the UK aid matching Soccer Aid, amongst that incredible statistic are the children I personally met, who are now safe from this deadly disease.
Not having a mosquito net also means a child is at risk of serious wider health complications. Malaria causes diarrhoea. Diarrhoea means that the few nutrients the child is consuming aren't absorbed and malnutrition sets in, worsening the child's already fragile health. This in turn means the mother has to care for the child and therefore can't earn a living by collecting fire wood or growing produce and the poverty deepens. 75% of the world's poor - 3 billion people - depend on agriculture for their livelihood. Women make up almost half of the agricultural workforce in developing countries and often their contribution to a family's income is a vital one. By simply providing a net - a simple net - this domino effect of destruction could be halted before it even starts.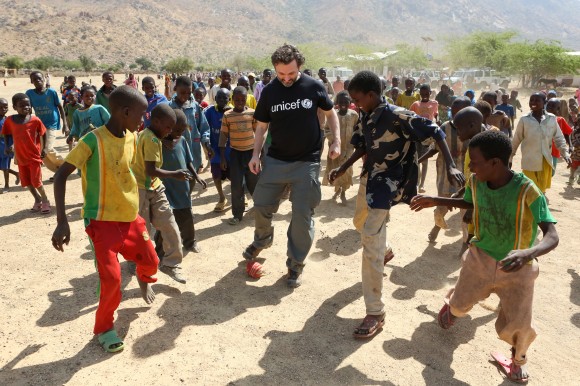 Possibly the most unforgettable time for me during my trip to Chad was the afternoon I spent with a women's group that runs awareness raising campaigns that promote good family practices, such as hand washing, making sure families are drinking clean water and using nets and ultimately learning how to keep their children safe from illnesses such as diarrhoea. I walked into a courtyard to find a sea of women, covered head to toe in a riot of colour. They were listening attentively to a UNICEF trained volunteer (who was also a nurse) explaining simple ways to adapt to the continuously changing and extremely challenging surroundings, where environmental factors are getting more extreme due to the effects of climate change. The women learnt about how to prepare and store food, what food to buy, how to treat water and how to use rehydration salts if their child does get ill. I learnt a lot myself - not only about protecting children from the every day challenges and dangers that this country presents, but also about the sheer strength of community in this region and the desire to change things, something that they can do with the help of a little bit of money and support, thanks to you.
---
Every donation from the UK public to Soccer Aid was matched pound for pound with UK aid, helping UNICEF change the lives of even more children. See how else UK aid is changing lives at www.facebook.com/ukdfid and visit www.dfid.gov.uk/ukaidmatchappeals to see where you can have your donations to charity doubled.
Please note, this is a guest blog. Views expressed here do not necessarily represent the views of DFID or have the support of the British Government.