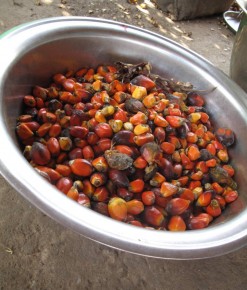 It's an ingredient you've probably never heard of, but it features in thousands of everyday items – from biscuits to beauty products. Palm oil is an edible vegetable oil refined from the reddish fruit of palm trees which originated in West Africa.
Always a staple part of West African cooking, it first became a sought after commodity in the UK in the second half of the 19th century during the industrial revolution, when it was used as a lubricant on the railways and in other machinery, and later in soap, margarine and candles. As production in countries like Nigeria, Cote D'Ivoire and Ghana fell during the 1970s, Indonesia and Malaysia took the tree native to West Africa and starting producing palm oil on an industrial scale. They created huge plantations and their production soon dwarfed that of all the other West African countries combined; the region where palm oil originated became a net importer of the product.
Producing on this scale in Asia had a major environmental impact, as vast swathes of rainforest were cut down to provide land for plantations and endangered species were being threatened. There were also accusations of human rights abuses made against palm oil producers. There have been calls for boycotts of palm oil products, and demands that multinationals find an alternative ingredient to use in their products.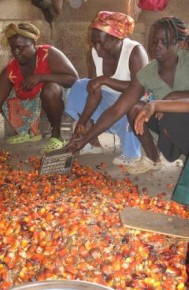 The sleepy town of Asuom in Ghana's eastern region seems a far cry from the globalised market. As I'm shaken from side to side as we drive down a track that's more pothole than road, it's no surprise to learn that West Africa is the home of the palm tree, and in Ghana, the eastern region is its heartland. Everywhere I look we are surrounded by the trees, and no forests have been cleared here to plant them - they've grown here for hundreds of years. I'm here to visit Serendipalm, a company working with the UK firms Traidcraft and Fulwell Mill, which has just received a UK aid Retail Industry Challenge Fund (FRICH) grant to help scale up and expand its production of palm oil.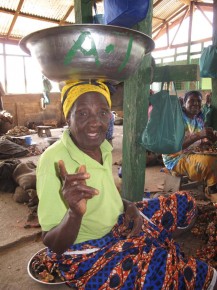 They first opened the palm oil mill around six years ago, when Dr Bronners, an American natural soaps company, was looking for somewhere to buy organic, fair trade palm oil for its products. When they realised they couldn't find a source they were happy with, they decided they had to make it themselves. I arrived around 9am, just after the latest batch of palm fruit had been delivered. The women working at the mill carry large bowls of the brownish-red palm fruit and deposit them on the floor of the mill.  These are divided up and distributed between the groups of local women working there, who carefully peel the fruit off the stalk by hand, and check the quality. In high season 200 women are at work – perched on stools, they sit in circles, laughing, joking and singing while they pick away the palm fruit stalks. I talked to Gladys, who has been working at the mill since it opened – she tells me it's now the biggest employer in the area. When the women finish their shifts, many will stay and sit around – keeping their friends and colleagues company.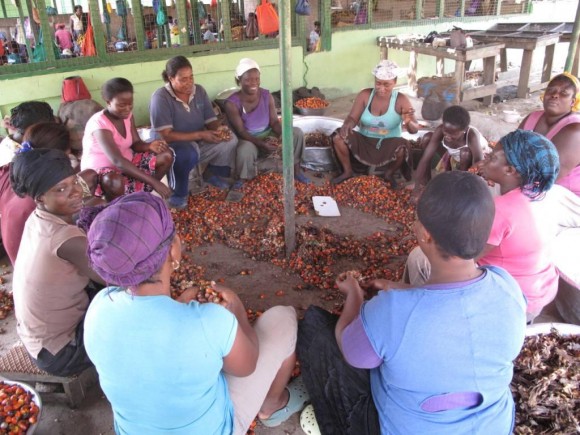 The mill purchases its palm fruits from some 300 smallholder farmers.  Each has about two hectares of palm trees, with each palm tree producing around three to five bunches of fruit every two weeks during the high season. The mill has helped the farmers to achieve organic status – not many were using pesticides in the first place, but being organic is as much about helping to increase yields – the mill provides organic 'sludge' left over from the palm oil producing process to the farmers so that they can use it to fertilise the trees. Farmers are offered training and interest free loans (in the form of hybrid seedlings), and the mill also assists with other local community projects.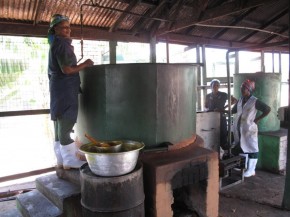 Once the fruit has been separated from its stalks, it is steamed in big vats to soften the flesh, then put through a digester, pressing out the oily liquid, and filtering out the 'sludge' which is used as fertiliser. The liquid left over is then put through a clarification process, heated like in distillation, and the oil layer rises above the water and overflows through a pipe into a second tank. This is then stored, before being shipped to Europe where it is further refined, and eventually used in the manufacturing of all kinds of different products.
DFID's support through the FRICH grant is being used to help expand the mill. This includes building another processing facility which should allow it to increase annual production around seven-fold, helping to add value by doing more refining on site, and exploring opportunities to market secondary products like cocoa. Of course small projects like this are never going to be able to rival the size or scale of the plantations in Asia. But they should be able to help create a demand for palm oil that is created in a sustainable way and that benefits the community and the environment. It's good to see production of palm oil finally coming back home to West Africa.