I recently joined DFID Afghanistan as the Private Sector Development Programme Manager, and my first "trip out" was to a programme I manage called Zardozi. It was already warm at 7:30am as I set off to meet 3 women - Latifa, Hamida and Mariam – eager to tell me about the Zardozi project and to share the stories of their lives. The heat and the Ramadan fast had not deterred them!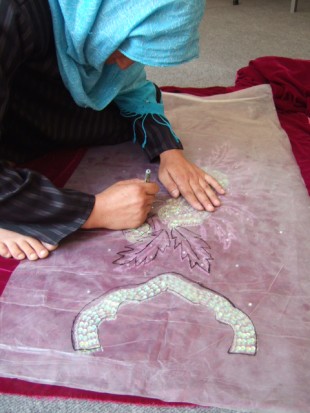 Latifa was young and giggly, clutching her 6-month-old daughter as she playfully enquired about life in England. Only once did a shadow cross her face. Her oldest sister had been married at the age of 14. "She has had no happiness since" she told me simply.
Hamida, one of Zardozi's longest standing members, spoke with pride about the money she had saved. It had been enough, almost, to buy both a computer and a vacuum cleaner. But then her husband had lost his job, and they had been wearing down their savings ever since. Nonetheless, she was hopeful about her future.
Both Latifa and Hamida were full of praise for the Zardozi project, and the ways it had changed their lives.
The concept of Zardozi sprang up some 26 years ago, with the purpose of helping Afghan women to earn money by finding markets for their sewing and handicraft products. Over the years, it has developed into a major network. Women receive 3 months of training - in tailoring and business skills, for example - and are then encouraged to set up their own businesses. Local community based centres offer moral support and practical help with anything from finding loans to cutting cloth. Today, with support from UK aid, Zardozi works with over 8,000 women and some 2,000 small businesses – including Afghanistan's first female-run hardware store!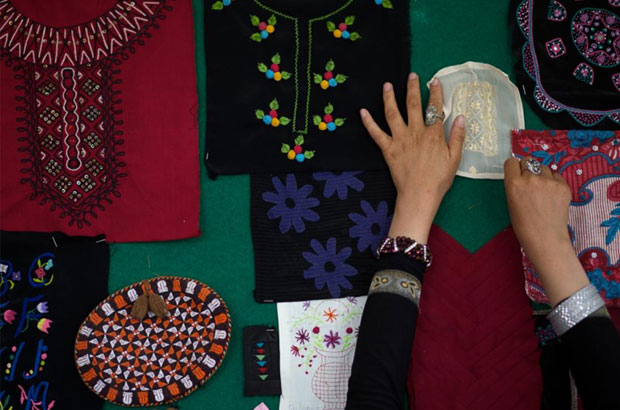 As Latifa and Hamida told me, there is a huge value in women having their own income. It safeguards against hardship, allows families to lift themselves off the breadline, gives women self-confidence and a degree of independence. But it was Mariam's story which really showed me just what a project like Zardozi can do.
Like both Latifa and Hamida, Mariam is illiterate. So is her husband. Before she joined Zardozi, the family were struggling to find food. Then Mariam learned to make and decorate children's cots. Her income grew. Now, Mariam earns enough from her sewing to pay the fees for her eldest daughter to attend university, where she is studying midwifery. Although Mariam's income doesn't quite stretch to sending her second daughter to university, Mariam has a plan: her eldest daughter will start to work, and she and Mariam will then divide the university costs for her second daughter between them. In time, Mariam hopes that all 7 of her children will have the option to study, and to have a better path through life.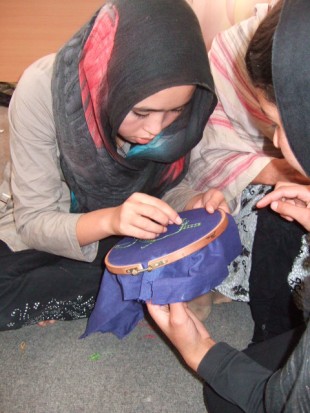 I asked Mariam, Latifa and Hamida about their views on child marriage. All agreed it was a problem which ripped families apart and caused great unhappiness. The solution? As ever, harder to find. Better education for girls. Better education for parents. Higher income. Changing family expectations and social norms.
For Mariam, her hopes for her children were clear: "I want my daughters to have their own income and be independent women" she told me. "I would like them to get married one day, yes, but not yet, not now. And when they are married, I hope that they will still work."
My first contact with local Afghan women left me with a great deal of respect for these ladies and their ability to overcome many challenges. I got a true sense that Mariam, Latifa and Hamida will do what it takes to improve their own, and more especially their children's lives. Zardozi may only be one of the several measures needed to lift families out of poverty, give women more autonomy and end destructive practices such as child marriage, but I felt proud that, through DFID, I was able to play some small part in that agenda.
As I left, some of Mariam's words continued to resonate in my mind: "Through my stitches, I can support my daughters. They will be stronger than me". I'm not sure it's possible to be stronger than Mariam, but I hope, like her, that the children of these Zardozi women will enjoy greater independence, experience less hardship, and have the freedom to create better lives for their own children in years to come.
Find out more about the Zardozi project and see some of clothes and handicrafts made by women like Mariam.
Keep in touch. Sign up for email updates from this blog