The Girl Summit 2014 was a big deal in the UK. It was the culmination of months of hard work by DFID, UNICEF and Girl Hub. It was attended by Prime Ministers, Presidents and Cabinet Ministers. Hundreds of young people from around the world came together to tell our governments what we all know already: that violence against girls must stop and we must invest in girls now for a better future for everyone. It was hard not to be humbled by the frank testimonies of victims of female genital mutilation and forced marriage.
Returning to our offices in the Democratic Republic of Congo, DFID and our UNICEF colleagues wondered how we could get the Congolese government to make some firm commitments on tackling these difficult and prevalent issues. On the International Day of the Girl, the UK government formally presented the Girl Summit charter to the Minister for Gender, Family and Children. The celebration saw the DRC government, donors and civil society make common commitments to improving the lives of girls, with War Child presenting their latest DFID-funded research on vulnerable street girls.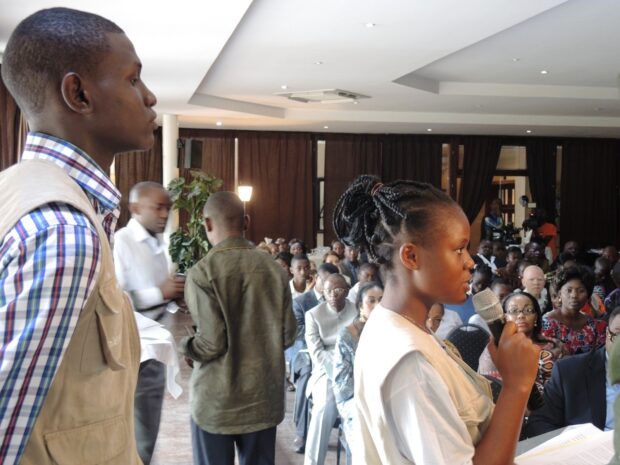 To galvanise the momentum, the Ministry for Gender, Family and Children, agreed to work with DFID, UNICEF and War Child to organise a youth workshop as the official follow-up to the London Girl Summit. The objective was simple: to get the DRC government to listen to the views of boys and girls on the subject of early marriage. Early, forced and child marriage is not an issue that just affects girls. It affects brothers, husbands and fathers too. Many girls marry when still legally a child (the legal age of marriage in DRC is 15) and its negative consequences mean many girls are denied an education and often access to healthcare, and many girls die from early childbirth.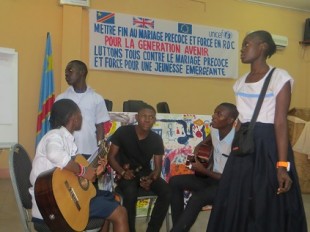 If you are a girl in the DRC, you are likely to get married young (43% of women aged 25 to 49 were married before the age of 18 (Enquête EDS 2013-14)). You are also likely to fall pregnant early and have, on average, 6 children (DRC has the second highest adolescent fertility rate in the world with 135 per 1,000 live births (Human Development Report 2014)).
In DRC, violence against women and girls – which by definition includes early and forced marriage, the denial of education and healthcare as well as physical, psychological and sexual abuse – is endemic and strongly linked to gender inequality and socio-cultural norms. It is inextricably linked to strong ideas about masculinities, traditional female roles and lower status of women in patriarchal communities, and the militarisation of society. The phenomenon of 'filles-mères' and sexual violence are particularly pronounced in – but not limited to – zones of conflict. It is against the backdrop of DRC's persistent and kaleidoscopic conflicts - causing widespread death, displacement, destruction and poverty - that the country's women and children have suffered extensively.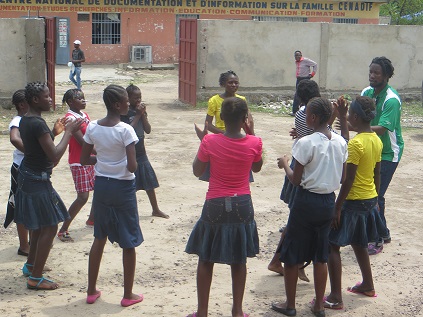 The DRC youth summit was held on 30 October, bringing together 80 children aged 10 to 19 from a range of districts in Kinshasa – including street children from Kinshasa's poorest areas and school children from a variety of socio-economic backgrounds. After a short briefing from UNICEF's youth reporters on the headlines from the Girl Summit, the children were tasked with coming up with some key messages and an action plan for the government to put an end to early marriage. Because the message needs to be communicated through a variety of channels, the children presented their messages in a variety of forms: a song, a painting, a dance and a play.
Through energetic creativity the message rang clear: DRC's youth don't want to get married as children. They want to be free to be doctors, lawyers and politicians. They don't want to repeat the mistakes of previous generations. They want their teachers, parents, politicians, faith leaders and communities to stand up for their rights. They want a voice – and they want to be heard. To get a sense of this inspiring event, listen to the song produced by the young boys and girls in just 2 hours. DRC's youth definitely got talent!
This workshop was just the first - but important - step in making that happen… DFID is supporting girls' empowerment through its new programme, La Pépinière, which aims to understand and tackle some of the damaging socio-cultural norms that block girls' potential. We will be working closely with other like-minded partners, including UNICEF and War Child, to support the government to take the children's messages seriously and implement their action plan in a meaningful way. Watch this space!
Keep in touch. Sign up for email updates from this blog, or follow UK in DRC on Twitter and Facebook.