In 2008, Nigeria accounted for 25% of the global burden of malaria. 219,000 children under the age of 5 died from the disease.  Describing the effort that was needed to defeat malaria, the UN's Secretary General's Special Envoy for Financing the Health MDGs and for Malaria, Ray Chambers, said that, "to win the fight against malaria we must get the means to prevent and treat the disease to every family that needs it".
It was in this context that the Support to National Malaria Programme in Nigeria (SuNMaP), a project led by Malaria Consortium and funded by the UK government, began. "This is the first time that Nigeria is really making a concerted effort to try to address this problem [of malaria]," said Dr. Ebere Anyachukwu, Health Advisor for the Department for International Development (DFID) in Nigeria.
SuNMaP is a vast, seven year, £54m project, providing a comprehensive approach to malaria control across 10 states in Nigeria. Besides malaria prevention, the key project areas of focus are capacity building, harmonisation, treatment, demand creation and operational research.
Prevention
One of the primary means for preventing malaria is the use of long lasting insecticidal nets (LLINs), and a significant aspect of SuNMaP's success has been in its ambitious net distribution campaigns.
SuNMaP provided the technical approach to distribute around 100 million nets in the country since 2008. Out of these, the programme procured 7.4 million nets, contributing to a campaign that increased net ownership in Nigeria from seven percent in 2008 to 49.5%  in 2013.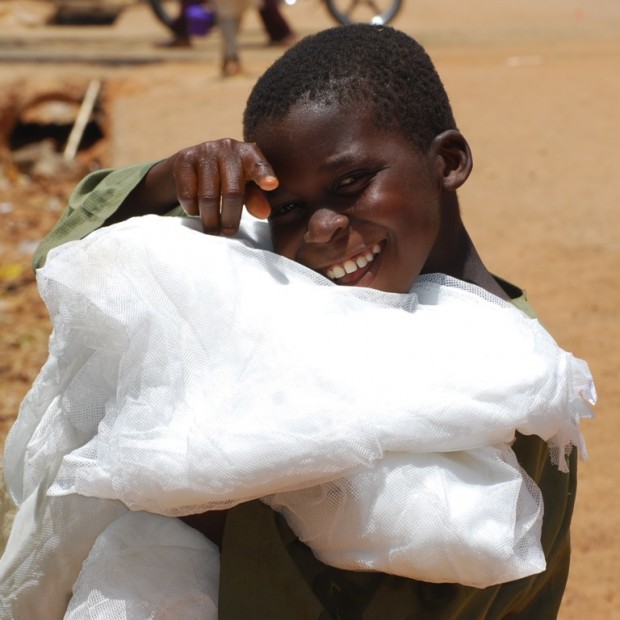 The rate at which people are dying from malaria globally has fallen by 60% since the beginning of the century. "One reason for this substantial improvement is the increased availability of insecticide-treated bed nets," said Ban Ki-Moon, Secretary General of the UN on World Malaria Day earlier this year. Mosquito nets have been shown, as a single intervention, to prevent half of all malaria cases and reduce child deaths by a fifth.
Demand creation
Distributing nets and ensuring people use them, however, are two different indicators for success. In order for SuNMaP's prevention strategy to be successful, the project has to take into account social, cultural and behavioural factors that can influence the use of these nets. "Increase in ownership of nets is a first step that must be followed by appropriate and robust social mobilization activities aimed at fostering increasing use of these lifesaving commodities," said Olufemi Owoeye, the SuNMaP project director.
Before SuNMaP's net campaign, according to Kolo Yakubu, the former Senior Technical Malaria Manager for SuNMaP in Niger state: "there were widespread misconceptions that the nets cause skin irritations, generate heat and can even cause death when used". Therefore communication campaigns were planned; with radio jingles, TV adverts and health education sessions demonstrating how to use a net and explaining the benefits. Community drama sessions were held across the state as well.
This demand creation campaign had a substantial long-term impact. According to the Net Retention Survey, carried out shortly after the Niger state net distribution campaign in 2010, 28.5 percent of people who had a net said they slept under it the night preceding the survey. In February 2012, after the information and demand creation campaign, the Nigerbus survey reported that 78% slept under a net the night preceding the survey. Demand creation in Niger State was instrumental to the adaptation of materials – both electronic and print – that were subsequently used in other SuNMaP states.
The global effort in reducing malaria rates since 2000 are also, according to Ban Ki-Moon, "because of massively improved access to accurate malaria diagnostics and effective achievement".
Following WHO policy on malaria diagnosis in 2010, countries began to use rapid diagnostic tests (RDTs) to diagnose malaria where reliable microscopy was not available. An RDT is a small device that detects the presence of specific antigens produced by malaria parasites in the blood of infected patients. The small tool can be used with minimal infrastructure and medical skills, and gives results in 15 minutes.
SuNMaP's strategy involves the training of health workers to distribute RDTs and artemisnin combination therapies (ACTs), which are currently the most effective antimalarial medicine available for use against P. falciparum malaria. With support from the UK government, over 5 million ACTs have been sold through retail channels and 2.7 RDTs million and ACTs distributed to health facilities.
In 2008, the mortality rate for children under five in Nigeria was 157 per 1,000 live births. This figure has been reduced to 128 per 1,000 live births in 2013. SuNMaP's close in March 2016 provides an opportunity to use the improved capacity, guidelines and tools put in place as a result of the project to continue to improve health systems in Nigeria and strengthen structures for the sustainability of such systems.
To learn more about SuNMaP,  visit the project page.
-------------------------------------------------------------------------------------------------------------------------------------
Please note, this is a guest blog. Views expressed here do not necessarily represent the views of DFID or have the support of the British government.
-------------------------------------------------------------------------------------------------------------------------------------