Across Pakistan, the UK is working closely with provincial governments and partners on ambitious plans which will benefit millions of children and improve the standard of their education. This will not only make a dramatic difference to the lives of some of the most disadvantaged girls and boys, but will also benefit their families and communities as they get better jobs and earn more money.
Two years ago I began working in DFID Pakistan's education team as a programme officer to manage the Punjab Education Sector Programme. This programme is DFID's largest-ever investment in the education sector and works with the government to improve primary enrolment. Other components include scholarships for schoolgirls, improving school infrastructure, supporting low cost private schools, access to finance for these schools and an increased focus on improving enrolment in 11 low-performing districts in Punjab.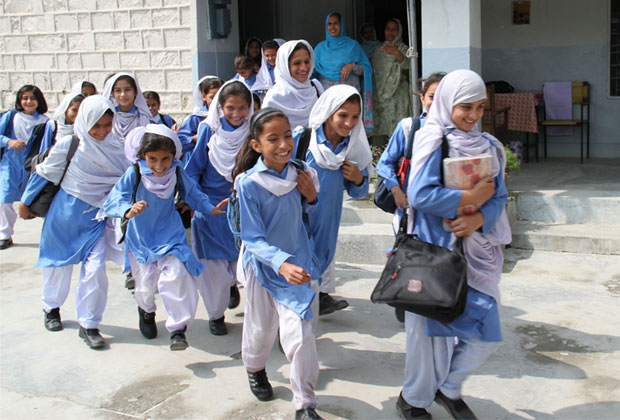 As part of my induction into the sector I had the opportunity to visit a low-cost private school. Speaking to the school owner on the subject of expansion, he mentioned that he had a large piece of land available to expand the campus further – but cited a lack of finances as the main obstacle. When I asked him about why he hadn't approached a bank to help finance the expansion, he grimaced and explained that it was too tricky and complicated a process because of extensive documentation requirements, lack of collateral, high interest rates and unavailability of dedicated financial products for low-cost private schools. This was an interesting revelation for me since there are approximately 70,000 low-cost private schools in Pakistan – which make this an area where the commercial lending sector can make a real difference.
The owner financed the school through his personal savings and informal borrowings from family and friends. Such schools are mostly housed in residential properties and require finances for facilities such as computer labs, classroom furniture fixtures, science labs, libraries and functional toilets. There is also evidence that low-cost private schools provide a better quality of education than government schools at a third of the cost and are responsible for getting millions more of out of school children into school, but little has been done to understand the financial model of these schools.
It was with this aim that DFID decided to undertake some research in this area. We wanted to better understand the profile of low-cost private schools, their borrowing needs, cash flows and how to engage banks to lend to these education entrepreneurs.
The research involved a survey of over 300 primary and secondary low-cost private schools from Punjab, Sindh and Khyber Pakhtunkhwa which charge fees between Rs. 350 to Rs. 2,000. The team visited each school and collected data on both education and financial indicators, including enrolment, reviewing the business model of these schools and exploring their appetite for borrowing from the commercial sector.
The objective of this study was to determine how credit could be provided to these education entrepreneurs for quality improvement and sustainable expansion. Through this research we have been able to develop a really good understanding of how these schools operate, and particularly the business model and financial records low-cost private schools maintain. This research will feed into the design of our access to finance support component under the broader Punjab Education Sector Programme.
The findings of this research were released at an event in Islamabad earlier this month which was attended by educationists, donors, investors and financial institutions. It was extremely heartening to see these different interests come together and discuss how credit could be used to improve the quality of education for students from impoverished backgrounds across Pakistan.The findings suggest that more than half of the surveyed low-cost private school owners were interested and willing to explore finance opportunities with almost 38% having bank accounts. Unfortunately just 1% of these owners have ever tried to apply for a loan to finance their expansion as the banks offer unfriendly financial products with high interest rates which require extensive documentation to be submitted.
There is tremendous potential in this area, considering that approximately 31% of the total enrolled children in Pakistan attend private school. The research also found that low-cost private schools were profitable at all levels – making it an estimated Rs. 77 billion market for commercial lenders.
The research suggests that unless financial institutions are supported to develop new and innovative lending models, schools will not be able to access finance and invest in improving their quality of education. This means that the education and the financial services industries need to work closely together.
Some financial institutions have already begun piloting new lending approaches in the education sector based on the findings of DFID's research and the financial model it proposes. The initial feedback suggests that the approach has real potential. Each bank has been able to process 2-3 loans as part of this pilot. Banks are backing these loans by assessing schools revenues and proposing to get parents to deposit fees with the bank, which gives them a guarantee that repayments will be made. However, the high interest rate and ability of schools to pay back these loans remain a question for these banks.
DFID is committed to developing a long-term programme that will make it easier for banks to lend to low-cost private schools by covering their lending risk and providing these schools with some support to address issues of quality. Our vision is for credit to not only be used to expand enrolment, but also to ensure that schools introduce middle and secondary level education and improve the quality of education at all levels. This means that educationists and the financial services industry need to work closely together, so that (and to quote from the report) "the relationship between credit and quality provision become as entwined as the relationship between borrower and lender."
Keep in touch. Sign up for email updates from this blog, or follow UKinPakistan on Twitter.
———————————————————————-----------------------------------------——————————
Are you interested in development issues and the UK's development assistance to Pakistan? Sign up to receive our quarterly newsletter which includes new announcements, case studies, photos and blogs on our work as well as jobs and funding opportunities.