May for me, as Head of DFID Kenya, was a month of stark opposites. Highs and lows, achievements and failings, celebrations and disappointments.
To explain, the government of Kenya released a report called a 'A Price Too High to Bear', which was funded by DFID Kenya. It's a sad report. It tells me that every 2 hours a mother dies in childbirth in Kenya and features a study which looked at the prospects of 59 babies whose mothers had died in childbirth. The statistics on the page are stark. But what came as a shock to me was that it didn't stop there, because three quarters of those mothers' babies also died, either at the time or shortly after.
The aftermath of that tragedy was also sad. If there are other children in the family they can't be looked after by their dad because he still needs to earn a living. So children tend to live with their maternal grandmother. Their father will typically marry again fairly quickly and more often than not, lose contact with their children. This means the children lose not only their mother, but their father too.
I suppose what makes the report particularly poignant is that it is released just a month or so after we have celebrated the achievements of women all over the world as part of International Women's Day in March. The juxtaposition of the achievements by Kenyan women that were remembered on that day - achievements like those of Lupita Nygong'o winning her Oscar, to the courageous work of Wangari Maathai the first Kenyan to win a Nobel Peace Prize, and to all the many Kenyan athletes like Nancy Lagat, Priscah Jeptoo, and Tegla Loroupe, whom have all won Olympic and other medals. Those babies could have been destined also to do incredible things.
For every woman who finds out she is pregnant, worldwide, I'm sure the same thought passes through their minds, as it did mine. What will the future hold?
I gave out some DFID funded bednets to pregnant mothers on World Malaria Day and the new mums-to-be and I had a good chat about that. But it did strike me that the worries of those women are very different to my own. They are literally dicing with death. I'm sure those concerns passed through those 59 mothers' minds too. Sadly their worries became very real.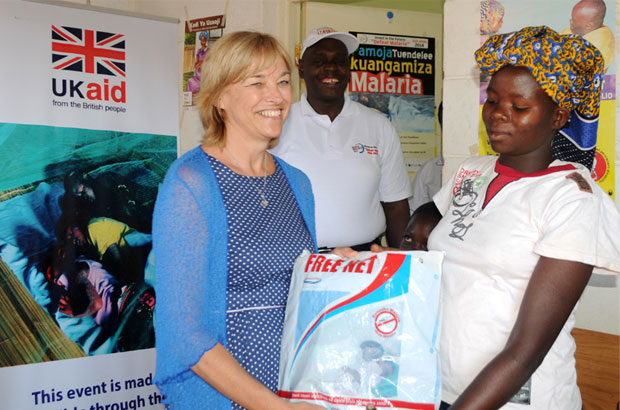 But May was not all doom and gloom. DFID Kenya has started its maternal and newborn health programme which will train 9,000 health care workers nationally. This will mean 95,000 mothers will deliver with the help of skilled birth attendants and more mothers and babies will survive.
Indeed the UK has been supporting Kenyan government efforts to tackle maternal and newborn deaths for many years. In fact the health is the sector where DFID makes the largest investment currently. Our existing support to health has given out 5.2 million bednets to pregnant women and children, and we are well on track to meeting our 2015 target of giving more than 340,000 women choice in the size of their families.
We also know that DFID as an organisation is well set to deliver, because we've just had our child mortality efforts assessed by the UK aid's independent watchdog for their value for money and effectiveness. We were given a very creditable amber/green overall rating.
In my role as Head of Office I certainly look forward to seeing the rewards from the UK's and others' programmes in this area, including having a cuddle with the babies when I meet them. Who knows, there might be another Nobel winner amongst them.
Keep in touch. Sign up for email updates from this blog, or follow Lisa on Twitter.